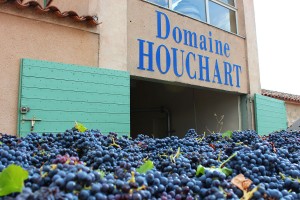 Vintage Report 2015 – Provence – Domaine Houchart
Provence was marked by a very long, hot and dry summer.
The perfect sanitary condition of the vineyard allowed for an unusually late harvest, with perfect ripeness.
Domaine Houchart was the last estate to harvest Grenache. They have beautiful Cinsault and great success for all varieties.
These should be one of the best vintages ever for the estate, with deep color and extremely complex aromas and flavors.
The Roses are also very successful, with a beautiful pale. Peony like, color.
St Victoire, shows it's usual minerality, enhanced by the  ripe, concentrated, Grenache.