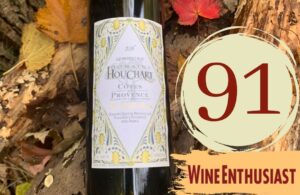 Fall is well underway. As we are settling into the cooler weather, a glass of wine is a nice touch for a warm and relaxing feeling. The cozy sensation brings many smiles. So does good news!
Domaine Houchart 2018 Red (Côtes de Provence) scored 91 points in the November issue of Wine Enthusiast. This red wine is from Provence, which makes it a favorite for wine clubs.
The magazine describes it as, "A rich wine, [that] is full of warm southern perfumes with wild thyme and spice. The crisp edge to the wine's richness suggests that it will need some time to mature before drinking. Drink the wine, with its black fruits, from 2022," Roger Voss.
All the sweetness from the red, it gets better! The white wine also scored 90 points in the same November issue of Wine Enthusiast. In addition, the whole trio of Houchart Wines is now 90+ points.
At Milligan Selections we are proud to bring you quality French wine. We are always honored and excited when our wines are recognized. This is a nod that we are staying true to the original goals and values of our company.
Cheers to a beautiful red wine and memories that last a lifetime!