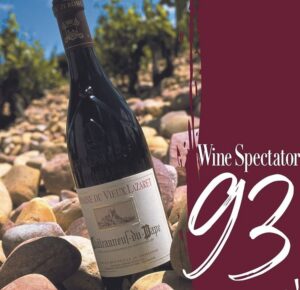 We are always hopeful for the beginning of the year. It is a feeling of optimism. When "life happens" we try to find moments of gratitude.
We are happy and grateful to share that Wine Spectator awarded 93 points to Vieux Lazaret Rouge 2019. All the details are in the January 2022 issue!
This marks the fifth consecutive 92-plus score for this Rhône Rhone Valley jewel. Wine expert James Molesworth notes this wine as, "ripe, sleek, and captivating." He highlights the finish as, "lined with red licorice."
We are thrilled to congratulate Famille Quiot on another exceptional vintage of Vieux Lazaret (Vee-yuh Laz-a-ray)!
At Milligan Selections we are proud to bring you quality French wine. We are always honored and excited when our wines are recognized. This is a nod that we are staying true to the original goals and values of our company.