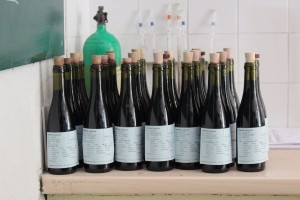 Man, reds are hot, hot, hot right now! The latest of our red wines to be graced with a fantastic rating is our Chateau du Trignon Cotes-du-Rhone 2015.
The luscious red received 91 points from James Suckling, one of the most respected and widely read wine critics out there today. (You'll recall he was once Senior Editor and European Bureau Chief of Wine Spectator).
"Delicious" is how Suckling describes the Chateau du Trignon Cotes-du-Rhone, teeming with "meat, berries, earth and hints of cedar character."
You'll want to pair this with hearty, meaty dishes and sauces. Also pairs wonderfully with Barbecue, Charcuterie, Veal Chops and Grilled Lamb, as well as Munster, Camembert and Brie Cheeses. And, crusty bread is a must, of course. Or just a warm fire and good conversatin.
Suckling's drinking recommendation? Drink….or hold. Up to you!
Either way, you can't go wrong picking up a bottle of this sultry red this fall, as the autumn chill sets in. Bundle up, stock up on Chateau du Trignon Cotes-du-Rhone 2015 and settle in round the fireplace.